DEAN, UK October 2 2011: Liz and Tony Davis, started operating a few years ago from a 40 acre farm in the Forest of Dean, Gloucestershire, UK.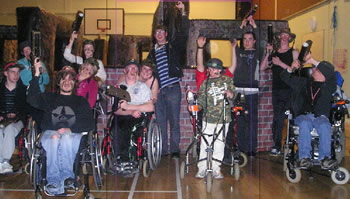 "Following a mobile event for our Tourist Association we were approached by The National Star College in Cheltenham to look at running events for disabled students using Battlefield LIVE equipment."
The College has expertise in working with young people with physical disabilities, acquired brain injuries and associated learning difficulties.
"We've run events in the sports hall using Battlefield Live inflatables.
We taped the gaming guns to wheelchairs, strapped them to walking frames and enlisted the help of carers to support operating the guns where students had severe physical restrictions."
These events turned out to be a great success.
Students soon realized that despite their disabilities they had found something which wasn't out of bounds to them as so many other activities are.
Battlefield LIVE provides the perfect equipment for events with disabled groups because the guns are robust, can be configured to suit the participants abilities and are completely safe without the need for face or body protection.
"We find running events for the disabled really rewarding as well as really good fun. We have now started working with other disadvantaged groups such as fostering organizations and young carers and have had tremendous feedback that has provided great opportunities to expand our Operations."