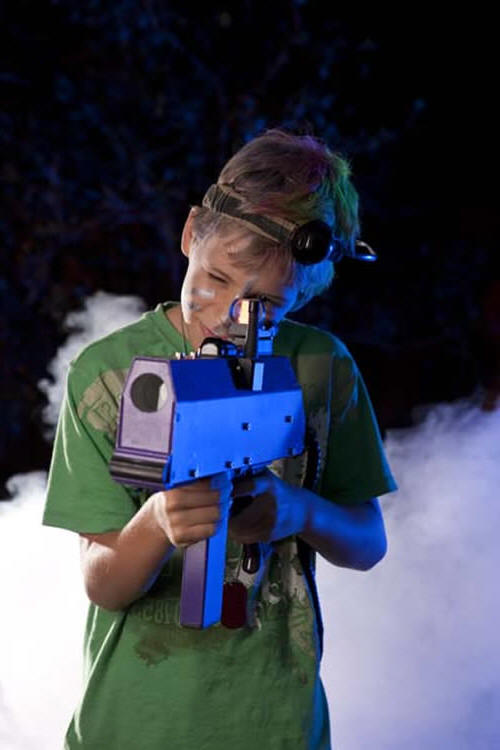 A sophisticated, new concept: Battlefield LIVE™ is a combat entertainment experience like no other. Our patented technology gives you real-time statistics just like a LIVE computer game. No waiting for a print out means high throughput.
This is ain't your Grand-pa's Laser Tag. It is live gaming taken indoors.
Imagine, offering gamers fully licensed bars, DJ music, disco lighting, pool tables & sports telecasts. Battlefield LIVE™ is not only unique but also downright cool!
We recommend that the Scorpion model is a good place to start.
Take the game indoors for the perfect location for a corporate team building function, product launch, team building event, cocktail party, bar mitzvah, birthday party or just a great night out.
Your Ticket to a New Attraction
Battlefield LIVE suits indoor deployments from small fire teams to huge platoon engagements. This brand of combat entertainment is ideal for:
FECs and Bowling Alleys. Family Entertainment Centers or Theme-Parks as a bolt-on
Stand-Alone. Set within a warehouse or some other commercial space e.g. on the perimeter of a shopping center.
Battlefield LIVE indoor gaming is a significant departure from yesterday's indoor laser tag. Unlike old fashioned indoor Laser Tag there are no "individual rankings" or score sheets. Rather gamers can check out their own statistics in real-time.
WHAT WE OFFER
Phasers (gaming guns): Unlike traditional indoor laser tag we have a variety of phaser models. We've designs/models to suit different age groups. All with the patented SATR technology.

Gaming Inflatables: We make full-sized inflatable doorways, windows, walls, pillboxes & more. All clip together to form a portable & authentic arena for thrilling indoor gaming.

No On-Going Fees: You get innovative technology, robust gaming guns made from high-grade aluminum & stainless steel, giving you a lower cost of ownership, and all royalty FREE.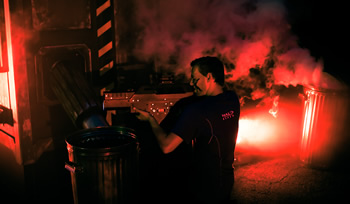 Battlefield Sports has created gaming inflatables which can create a visually stunning 3D combat arena. No more sneaking around in the dark with lots of neon. The full-sized inflatable doorways, windows, walls, pillboxes have authentic skins and clip together to form a portable arena. Now your gamers can experience room-clearing and close quarters combat inside a maze that can be easily re-designed. You can adjust the terrain to suit the scenario, or event theme, or just so the combat entertainment experience is always fresh. A vital advantage, from an operator's perspective, is the ability to re-deploy (move) the entire battlefield, if needed, to new premises.
One of the major weaknesses of the old indoor Laser Tag model was the problems of trying to move a maze when the business had to change premises due to expansion, downsizing or failure to renew lease on existing premises.
The old style indoor systems with one model "dumbed down" to the lowest common denominator are no longer good enough for the new breed of sophisticated gamers. Gamers expect a range of models with characteristics that are "realistic" for each. Gaming has become very focused on team games and mission objectives; this is a key departure from old fashioned individual scoring usually found in traditional laser tag indoor arenas.
The current trend in theming of movies and live action games is towards modern and near future genres rather than far future, this trend is providing another driver towards the more "realistic" style of play encompassed in Battlefield LIVE™. The introduction of realistic weight and balance has tremendous appeal to a new generation brought up on very realistic video games. Our gear is great for indoor milsim.
Ten Pin Bowling Alley - A Case Study
The SATR Technology is perfect for bowling alleys. Here's what one Bowling Alley manager said:
"We are still getting plenty of return business for Laser Tag and are especially pleased how Battlefield LIVE has complimented the existing Ten Pin Bowling business. Rather than detract from the bowling numbers, it seems to have boosted them."


then 1 year later


"Compared to ten pin bowling, very cheap to buy and easy to run. The ROI is excellent. We have had a return on investment that well and truly exceeded our financial plan. I wonder if potential buyers would like to know that a certain country Victorian town of only about 14,000 people recovered their initial investment within the first 12 months? This would be an interesting point to make to 10 Pin Bowling venues who often take 10 years to cover their set up costs and several of them are looking to extend their entertainment options. Currently they seem to be looking at either Laser Tag or Go-carts

[as an added attraction]

. Laser Tag should win that argument hands down on costs, size of venue, even staffing levels, pollution and noise levels."
Peter Mc, Australiaa
Digital Small Arms Transmitter Receiver System
With the introduction of our new SATR™ system, Battlefield Sports now supports indoor live gaming even better. SATR has a software configured indoor mode than radically reduces infrared ricochets. The ability of SATR to perform global digital radio controlled start, stop, pause and resume means SATR gives the CO additional control to speed centre through put. Indoor gamers love SATR's key feature in any environment, real time hit feedback via the shooters gun with real time on gun statistics. Statistics includes hits made, kills made and accuracy percentage.
SATR can be configured to eliminate friendly fire, this is valuable when you have a high gamer to space ratio typical of an indoor battlefield.
100% Portable Arena
Battlefield Sports patented gaming inflatables are models of doors, walls, windows & more. The inflatables are flat, rather than balloon like. They come in a variety of skins: grey brick (pictured below); red brick, stone, besser brick, desert brick, sandstone.
Realistic Tactics
A true test of a combat game is how well authentic tactics work against unrealistic tactics. Achieving an accurate simulation in the most elegant and simple way is the "holy grail" of any good combat game trying to simulate a particular genre. In the case of Battlefield LIVE the game is mostly focused around modern close quarters infantry combat. Our experience has shown people professionally trained in room clearing techniques do well at Battlefield LIVE whereas they often perform poorly in traditional indoor Laser Tag arenas.

The two key reasons while Battlefield LIVE works better are:
− The narrow beam means gamers really have to aim, not just shoot in the general direction of the opposing team

Gamers can be "killed" quickly and are forced back to their entry points before they can re-enter the Live-Play, so making genuine room clearing and base
control possible.
The other complaint from gamers of traditional indoor Laser Tag is that it is just about impossible to get immersed in the story when wearing a brightly flashing vest. Battlefield LIVE is all about living out your Hollywood hero fantasies, so costuming is an important part of the Live-Play.
For more info, download our Live Gaming Indoors Fact Sheet.
International Laser Tag Association
According to the International Laser Tag Association, there are more than 770 laser tag locations in the USA and over 1,400 worldwide. Laser Tag is interactive, so it is no longer limited to stand-alone laser tag arenas, nowadays the laser tag attraction is a leading revenue generator at family entertainment centers, bowling alleys, amusement parks, go cart tracks and mobile attractions. The International Laser Tag Association research shows that the average return on investment for a Laser Tag attraction is between 12 and 18 months. Battlefield Sports is a supplier member of the International Laser Tag Associations as well as a supplier member of IAAPA.
Interested in a free consultation? Click here to take the next step...