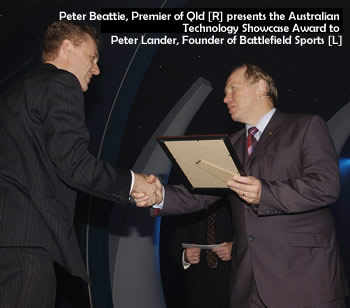 Brisbane, AUSTRALIA, Friday, June 8, 2007 An Australian company that is a world leader in live gaming has won the Australian Technology Showcase's most prestigious accreditation - 'ATS Queensland Member of the Year Award' the Premier of Queensland, Peter Beattie, announced last night.

Premier Peter Beattie congratulated Battlefield Sports for winning the ATS Queensland Member of the Year Award 2007 at the Premier of Queensland's Smart Awards gala dinner at the Brisbane convention and Exhibition Center.

Mr Beattie said the ATS Awards, now in its second year, continued to reward innovative Queenslanders that had come up with bright ideas to make their companies more competitive.

"Again this year, the quality of entries was outstanding and I thank all applicants for their participation in the event," he said.

Mr Beattie said Battlefield sports won the ATS Award and $10,000 of cash and in-kind prizes after begin judged the 2007 most innovative organization in the Queensland's government Australian Technology Showcase program.
Battlefield Sports manufactures infra-red gaming guns and designs live games, like a live computer game.

The Award is designed to encourage breakthrough thinking and was judged by an independent panel on three key criteria: the degree of innovation demonstrated, company growth and development, and market success.

Collecting the award, Peter Lander, Founder of Battlefield Sports said: "It's been a great journey," Mr Lander said.

"Battlefield developed out of my own passion … I love games and I love sport."
"We export all around the world, so there are a lot of people who love what I love!"
Established in 2000, Battlefield Sports taps directly into the needs of the 'gamer generation' who have been brought up on first-person perspective shooter games played on PCs, Xboxes, PlayStations, Gameboys, and mobile phones.

The Battlefield Live system is the first of its kind in the world, based on sophisticated optoelectronics – emitting infra-red through a lens and receiving an enhanced signal through special infra-red sensors – that enables the game to be played in daylight.

The infra-red 'gaming guns' are 100 per cent portable, weatherproof and can be used both indoors or outdoors for an exhilarating live combat gaming experience – without the bruises! They're adaptable to a variety of terrain, from simulations on the snowfields of Norway, and the woodlands outside New York, to the jungles of tropical Phuket in Thailand.

Battlefield's equipment is used in stand-alone battlefields, as complementary offerings at paintball parks and summer camps, and as part of school adventure education.

Uniquely designed around team focused objectives, the Battlefield Live gaming experience, appeals to wide market, from the digital generation through to corporations. Indeed, fortune 500 companies including McDonalds, Cisco Systems, Microsoft and Atari are just some groups who have utilized the experience for fun and exciting team building exercises.

The company now exports to more than 35 countries around the world and turns over more than a million dollars in sales each year. And with three per cent of its annual turnover dedicated to research and development, Battlefield Sports is on target to stay at the top of its game.

The ATS Queensland Member of the Year Award acknowledges members that are innovative, growing and developing as a company, and experiencing market success. The Australian and Queensland Governments are keen supporters of the ATS, which is committed to promoting Australian science, engineering and technology internationally, and increasing awareness of Australia's capacity in leading-edge skills and technologies.

Battlefield Sports was inducted into the ATS in 2003 and is now recognized as a leading Australian innovator.
For more information on the Australian technology showcase, visit their web site.