SATR stands for "small arms transmitter receiver." It offers you real-time hit feedback, via light effects (through the red dot scope) and sound effects (through voice feedback). We have invested years and hundreds of thousands of dollars on its research and development.
The trademark application SATR was lodged in July 2006.
Patent Approved for our Digital Technology
The patent application was originally filed in Australia in December 2006. There was a soft launch in Australia in November 2008. This innovative product was officially launched in London in April 2009.

Our patented gaming guns use a lensed infrared light system. Our patent application was lodged with the US Patent Office on June 18th 2009. The International filing date, December 20st 2006, is deemed the filling date for the purpose of determining the term of the US application.

Here is the latest software release, click here.

International patent applications with this filing date have been lodged in the UK and the USA. SATR has been deemed, in a written opinion under the Patent Cooperation Treaty, to be novel, inventive and industrially applicable, as of January 2008.

See the Attorney's Letter, click here page 1 and page 2. Read the entire specification (42 pages), click here. Our patented technology utilizes a sub-1-GHz transceiver by Texas Instruments. For the full data sheet see... http://focus.ti.com/lit/ds/symlink/cc1101.pdf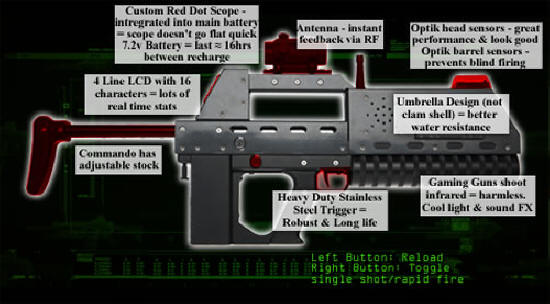 RF Connectivity
Our new radio frequency hardware and our upgraded gun software. Currently our research and development team are working on an amplitude- modulated transmitter and an associated regenerative receiver a radio band. This is ideal for short range communication—up to 500ft (150m) to 660ft (200m). Because our application has a high data rate, we use a PIC microcontroller and have had to upgrade our assembler software to achieve secure and reliable transmissions. Our innovative research and development has been recognized with a national award - the Australian Technology Showcase.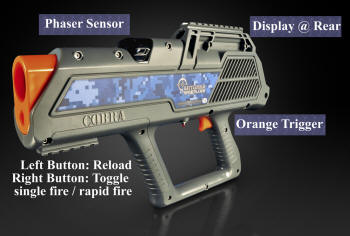 Here are the latest innovations:
Digital Small Arms Transmitter Receiver System
SATR

™

system, Battlefield Sports now supports indoor live gaming even better. SATR has a software configured indoor mode than radically reduces infrared ricochets. The ability of SATR to perform global digital radio controlled start, stop, pause and resume means SATR gives the CO additional control to speed centre through put. Indoor gamers love SATR's key feature in any environment, real time hit feedback via the shooters gun with real time on gun statistics. Statistics includes hits made, kills made and accuracy percentage.

Any well developed and successful game system is carefully balanced so that no one tactic or side is, overall, at a significant advantage or disadvantage. Gamers can be very inventive in finding winning tactics or strategies and it is only after a large number of play tests with a variety of players with continuous refinement of the game rules and tools that true game balance can be assured.

Battlefield LIVE™ is the live gaming phenomenon. All our gaming guns are built tough in Australia. We believe in continuous and never-ending improvement.
COMPLIANCE
SATR has been tested for compliance for both CE and FCC. Read more about our Compliance testing and approvals, click here
GAMING INFLATABLES
Our patented gaming inflatables enable you to create an instant combat zone. They can be used either indoors or outdoors. Our patented urban inflatables dramatically changes the mobility of the game. For example our small, medium and grande pillboxes really add authenticity to the venue. These act as a central feature of your battlefield, like just a fort or emplacement.
Our high wall and low walls in combination with our doorways and windows link together to form an instant maze.
EYE SAFETY
Battlefield Sports™ equipment is based on years of both on field and laboratory research and development. Our Battlefield LIVE™ units are eye safe. Read our updated "Battlefield Sports Safety Report." [PDF format, 37k]
OPTIK-SENSOR
The development of the perfect sensor to support the Battlefield LIVE™ game concept has been one of Battlefield Sports' major research and development projects. See below, a photo of our brand new Optik-Sensor.
Battlefield Sports is committed to relentless research and development. Our new Optik-Sensors deliver excellent long range, reliable performance at the baud rate needed by SATR. For example, a Morita sniper rifle can routinely hit these sensors at more than 650 feet (200 meters). In testing we've even had a Scorpion hit at 850 feet (250 meters) in full sun!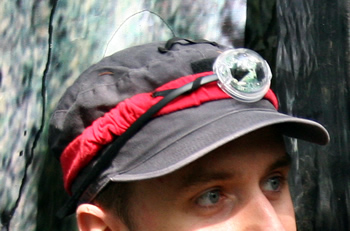 But we don't do R&D just for the sake of having more useless bells & whistles. Rather we focus our efforts on useful improvements that make the gamer's experience more authentic and the battlefield owners business better. For example, the main driver behind the new Optik-Sensor was the need to support high speed data transmission with the SATR system. Our new Optik-Sensor design works with our classic system and, with a minor modification, with the digital SATR system. This means someone who upgrades to the new sensor for their classic system can easily upgrade later to the SATR system. And, of course, anyone ordering new SATR gaming guns will have our latest innovation in sensor technology factory fitted.
The new edition head sensor features a heavy duty 6 core cable (that can also come with an adaptor for our older 4 core plug) that has increased the average life span of the cable. It also supports SATR's ability to configure the sensor hit light color in software. The new sensor comes with a Smokey grey dome that looks very attractive and discrete. Our team has designed a surface mount PCB which has enabled us to keep a compact size of the sensor. Our sensors are approximately the size of a silver dollar. These sensors simply attached with Velcro to any hat or cap or headband as shown above. This is particularly useful if you are using a particular style of costume as part of your attraction's themeing.
The re-design of the Optik-Sensor has also allowed a lot more varnish to be applied to the board surface therefore increasing its capacity to resist water substantially. New dome polycarbonate covers are tough as nails, but easily maintainable.
The Optik Sensors are now in full production, email us today to ask us to find out how you can benefit from it. You can see below close ups of the dome, the Velcro, and the ease by which you can dismantle the dome. Please note the photos here show a clear polycarbonate dome so you can see the sensors, production models have a dark grey color tint.
WATER RESISTANCE
All Battlefield Sports gaming guns have a special extra coating on the circuitry. This coating has proven truly amazing advancement in water resistance for electronic boards. While we still do not recommend play during a heavy storm, problems associated with high humidly building up in the case is radically reduced.
Live Game Packs - LIVEPLAYS
Our Live Games vary from basic games to complex re-enactments from WW1, WW2, Vietnam, to modern warfare. Each on has:
Mini-movie briefing
full color conceptual map
team briefing scripts (to read to the gamers)
game mechanics and
victory conditions.
At Battlefield Sports™ we are committed to bringing the latest innovations and trends in live gaming to you. Please return here for posts on news regarding Battlefield Sports research and development.