BRISBANE, AUSTRALIA, OCTOBER 20th 2009: The woman who played an instrumental role in creating a new brand of combat entertainment, has been named Queensland's most outstanding business female innovator having been judged among the country's best to potentially take home the Telstra Australian Business Women of the Year Award in November.

Nicole Lander [pictured, below right] is an entrepreneur and co-founder of Battlefield Sports, a world leader in combat entertainment. Her innovations have enabled 1 million gamers across more than 35 countries to live the movies they've watched and the computer games they've played.

The business-savvy Nicole grew the LIVE gaming industry from a niche hobby to a thriving international business. Having first been exposed to table-top role playing games in the 1980s, she moved onto computer simulation games before creating a business featuring live gaming. Nicole's command and control abilities on the gaming battlefield have helped her steer the company to success.
Nicole's business is known locally as Laser Skirmish and internationally as Battlefield LIVE.

As part of the recent launch of the G.I. JOE™ movie, Paramount Pictures invited Battlefield Sports in the UK and in Australia to create a live gaming event to promote the film release.

Nicole Lander, said: "I am delighted to have been honored with this award. Not only does it reflect the success our team has achieved, but it also helps fly the flag for the Australian manufacturers of gaming equipment worldwide."

As the head of International Sales & Marketing, Nicole manages six sales agents in the UK, USA, Singapore, France, Spain and Australia. At her local battlefield she employs 25 people.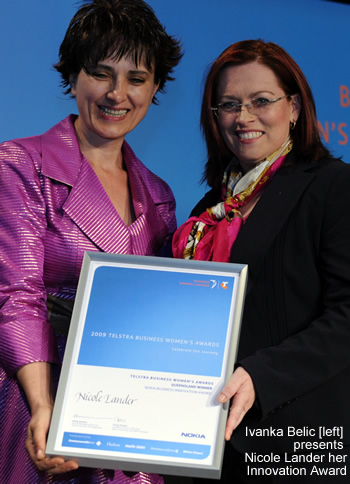 "We have received entries of an exceptionally high standard this year and these finalists represent some truly inspirational and talented Queensland business women," Telstra Product Management Group Managing Director and Telstra Business Women's Awards Ambassador Holly Kramer said.

"This year has been exceptionally challenging for Australia's business community. Queensland business women have faced these challenges with tenacity and a positive approach across their diverse range of industries," Ms Kramer said.

The judges commented that finalists and winners had been selected for representing a balance of business acumen and financial success, work life balance, outstanding leadership and a commitment to being the best they can be.

"When people are working for clearly defined goals, and when they believe they are making a difference, and are doing all the things we are actually capable of doing, then we can do astounding things," said Nicole.


About Battlefield Sports
Battlefield Sports™ is the world leader in live gaming combat entertainment. With more than a decade of experience, Battlefield Sports is the pacesetter in combat entertainment. This year, the company introduces its patent-pending S*A*T*RŪ System. For more information, visit www.battlefieldlive.com.au

About the Telstra Business Women's Awards
The Telstra Business Women's Awards have become an integral part of the Australian business calendar, celebrating the achievements of some truly remarkable women.
Past winners include some of Australia's most talented business leaders, whose career paths and individual achievements continue to inspire business people around the country. Thousands of gifted decision makers have enjoyed the many benefits that the Awards provide, including career analysis and development, positive business profiling, new business opportunities, expansion of networks and self development.
About Nokia Innovation Award
Nokia is the world's number one manufacturer of mobile devices by market share and a leader in the converging Internet and communications industries. They make a wide range of devices for all major consumer segments and offer Internet services that enable people to experience music, maps, media, messaging and games. They also provide comprehensive digital map information through NAVTEQ and equipment, solutions and services for communications networks through Nokia Siemens Networks. www.telstrabusinesswomensawards.com

ENDS