Bournemouth, England, November 2011: Arguably the most anticipated video game in history called on Battlefield LIVE to add spark to its launch.
For Call of Duty: Modern Warfare 3 November 8th was D-day. Across the UK there was a coordinated Battlefield LIVE maneuver at Launch of COD in conjunction with GAME store. GAME is a national retail chain.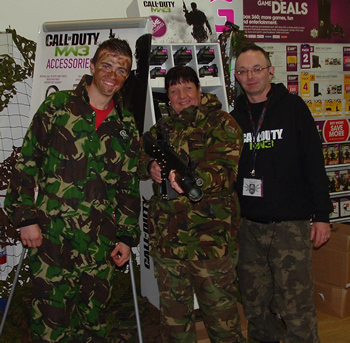 The event was attended by Battlefield LIVE Devon at Barnstable, Battlefield LIVE New Forest at Bournemouth, Battlefield LIVE Pennine at Preston, Battlefield LIVE Dundee & Tactics at Norwich (to name a few) combined forces.

The whole thing was a great success for both us and game and all parties looking forward to the next launch.

This is a launching pad for more operators to take part in future launches to help make Battlefield LIVE a name known nationally.

For example the team was at the Barnstable store in North Devon from Midnight until 0200 & then again from 0800, we received huge interest which we hope will pay dividends in the future.

At the various events there was an "armed escort" bringing the game into the shops (very cool). Loads of emails were collected for promotion offers by walking up & down the crowds, a leaflet for the respective site was included with each copy of the game itself.

Loads of interest was generated from the crowds holding the weapons/photo ops and we are expecting some good results from this first outing. On display we had Camo netting, Claymores and Medic boxes along with P90s & M4s as these are main weapons in the game itself.

About Battlefield Sports
Battlefield Sports™ build systems so gamers can participate in combat missions for entertainment. Battlefield Sports™ manufactures gaming guns and gaming inflatables, and creates unique battle missions.
Millions of games have been played across more than 35 countries. The Battlefield Sports® brand has service points in USA, UK, Spain, Singapore, Poland, France, Chile, and is headquartered in Australia. Battlefield Sports has won numerous awards, including named Top 3 State exporters (Arts/Entertainment) Premier of Queensland's Export Awards 2009. With more than a decade of experience,
Battlefield Sports is the pacesetter in the development of combat entertainment. This year, the company introduces its patent-pending S*A*T*R® System. Battlefield Sports is committed to 100% quality in service, design, and its manufacturing has CE certification. For more information, visit www.battlefieldsports.com
© 2011 Battlefield Sports; Battlefield Sports and Battlefield LIVE are registered trademarks of Battlefield Sports.com. All rights reserved

ENDS