DEVONPORT, PLYMOUTH UNITED KINGDOM, FEBURARY 11TH 2009: The British Royal Marine Commandos stationed on board the carrier HMS Bulwark will begin training this month with Battlefield Sports gaming guns.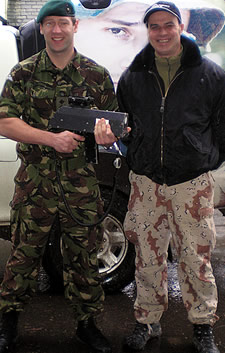 The gaming guns manufactured by Battlefield Sports, the world-leaders in live gaming, feature sophisticated optoelectronics for force-on-force training in either indoors or outdoors.

Captain Matt Hingston, Support Troop, 4 Assault Squadron of the Royal Marine Commandos, took delivery of the supply of Battlefield Sports gaming guns for the crew of the carrier HSM Bulwark this week.
"These guns will be used onboard for CQB training, boarding operations and agent infiltration exercises," said Captain Hingston.

Asked why he chose Battlefield Sports, Captain Hingston said "I searched the web, made a few phone calls and we were in agreement here that these guns are the best on the market for our purposes."

"These guns are tough and robust and will be used by the Royal Marine Commandos for a number of training simulations," said Captain Hingston.

Captain Hingston said, "We have an area the size of two football pitches to use onboard and look forward immensely to training with these guns."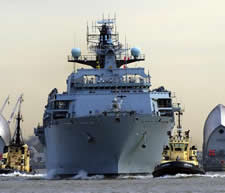 "We appreciate the confidence the Royal Marines have placed in us," said Paul Diamond, of Battlefield Sports UK. "We are pleased to have been able to deliver the Royal Marines' order on such short notice, and look forward to establishing a lasting business relationship with this key customer."

The Royal Marine Commandos ordered the gaming
guns just two weeks ago, because their ship departs from Devonport, Plymouth next weekend, so the
Captain needed his guns fast.

BULWARK IN DETAIL

HMS Bulwark is one of the Royal Navy's most technologically advanced warships. She is the official Fleet Amphibious Flagship and 'High Readiness Assault Ship'.

HMS Bulwark is 176 meters long and is one of the Royal Navy's largest ships.

An amphibious troop carrier, she is capable of carrying more than 1,000 crew members.

The ship weighs 18,500 tones.

Its weapons include two 20mm guns as well as navigational and surveillance radars.

Its 64 meter flight deck is able to take three Sea King helicopters and is also capable of supporting two Chinook heavy-lift helicopters.

She spent most of 2008 involved in multinational amphibious exercises and is now working on a busy program in 2009 of Defense Diplomacy visits in the Far East.



About Battlefield Sports
Battlefield Sports™ is the world leader in the development and production of high powdered infrared weaponry for combat games. Battlefield Sports™ manufactures, distributes and markets the equipment, patent pending live gaming inflatables, and unique battle missions for this leading edge hybrid of electronic sport and entertainment. With representation in more than 35 countries and millions of games played Battlefield Sports has revolutionized the combined entertainment and exercise options for the video game generation. Headquartered in Australia and offices in Los Angeles, Battlefield Sports won numerous awards for excellence, including Australian Technology Showcase, Member of the Year (Q2007). Battlefield Sports sells about 85% of its products internationally. www.battlefieldsports.com


© 2009 Battlefield Sports; Battlefield Sports and Battlefield LIVE are registered trademarks of Battlefield Sports.com. All rights reserved


ENDS