LOS ANGELES, CA USA, AUGUST 31ST 2011: Battlefield Sports makes its entry into the toy pistol market with its sights firmly set on giving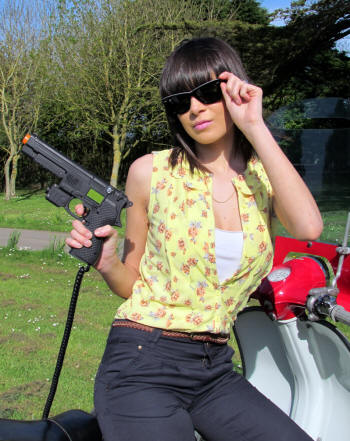 the all-new Saber model a radical gaming gun design.

The new Saber Pistol advances the Battlefield Sports' arsenal with its personality and potential.

"Many of the clients who have had an advance look at the new Saber pistol during its development process feel that its attitude is edgy and spontaneous," said Marketing C.O. Nicole Lander.

The response of enthusiastic clients is music to the ears of the development team, who already had their sights set on giving the Saber pistol an edgy design.
Its design is inspired by the famous M9 Pistol.

The new model will appeal to clients who focus on indoor arena gaming or mobile events. The pistol exudes visual confidence. Its features:
Integrated forward-facing gaming gun barrel sensor and integrated Optik head sensors on a tough 6-core cable which can be mounted on a headband or a vest.
Key switch which offers 3 states - on, off, & charge
Authentic and ergonomically designed handgrip
Compact muzzle flash, on boot select from red, blue/green or white flash
Blaze orange barrel tip
Long lasting re-chargeable 2,800mAh battery
The model is compact it has a 25mm lens, and it stands 10¼" (26cm) long and 6¾ " (17cm) high and weighs just over 1 lb (600gr)
The pistol includes the latest SATR electronics with an internally mounted antenna, for maximum robustness.

Exciting Adventure Pack
An adventure pack gives the Saber buyer the opportunity to boost its edgy attitude further. As an optional upgrade clients can accessorize Saber with a super bright tactical torch (which takes 3 x AAA batteries) choose from sliver, blue or red.

On sale now (delivery cycle 6 - 8 weeks)


About Battlefield Sports
Battlefield Sports™ build systems so gamers can participate in combat missions for entertainment. The Battlefield Sports group includes Laser Skirmish, Laser Tag and Battlefield LIVE brands. Millions of games have been played across more than 38 countries. The Battlefield Sports has service points in USA, UK, and Spain, and is headquartered in Australia. Battlefield Sports has won numerous awards, including named Top 3 State exporters (Arts/Entertainment) Premier of Queensland's Export Awards in both 2009 and 2010. With more than a decade of experience, Battlefield Sports is the pacesetter in the development of combat entertainment. For more information, visit www.battlefieldsports.com


© 2011 Battlefield Sports; Battlefield Sports and Battlefield LIVE are registered trademarks of Battlefield Sports.com. All rights reserved

ENDS