BRISBANE, AUSUSTRALIA, OCTOBER 21st 2011: World leader in combat entertainment has gained State recognition for its success aboard. Battlefield Sports was named as the winner in the Arts and Entertainment Category of the Premier of Queensland's Export Awards last night.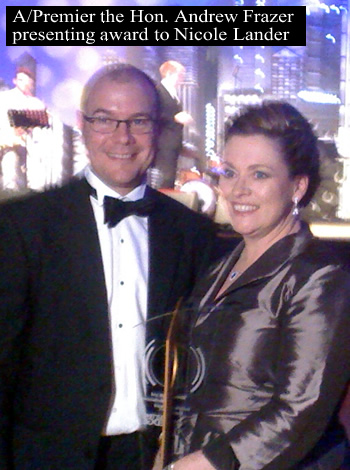 Battlefield Sports as grown its live gaming company from a niche business to an international success.
Their patent-pending real-time hit-feedback technology, called SATR, is offering gamers worldwide a new way to live out their Hollywood hero fantasies.
The awards were presented by the Hon. Acting-Premier Andrew Fraser in front of a crowd more than 700 of Queensland's brightest business people gathered to celebrate the annual Premier of Queensland Export Awards.
Acting-Premier Fraser said the stories of exporting success highlight the strong contribution exporters continue to make to the State's communities and economy.
"The Awards congratulate our best exporters for their efforts overseas and establishing Queensland as a reliable supplier of quality export products and services globally," Mr Fraser said.
Nicole Lander, Chief Fun Officer at Battlefield Sports, said: "We are absolutely thrilled to have won. Not only does it reflect the success our team has achieved, but it also highlights the burgeoning global live gaming industry."
"As home-grown success story, we are also proud to be representing our region as a world leading innovator in our niche," she said.
Nicole Lander says Battlefield Sports will continue to grow its export business through a combination of new product development and enhancement and expansion of existing and potential markets.
Battlefield Sports has exported its equipment to more than 35 countries,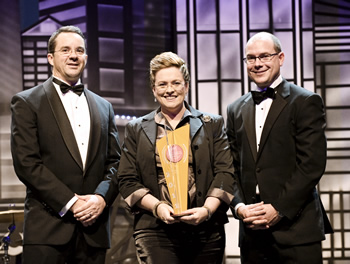 far and wide from the UK, USA, Spain, and Belgium to Canada and France.

"Since commencing exporting in 2002, Battlefield Sports has gained international success for its work in combat entertainment," Ms Lander said.

"Through on-going reinvestment in our technology, facilities and staff Battlefield Sports has grown into a world leader in live gaming, and operates the largest battlefield in Australia," Ms Lander said.
Awards Summary:
* 2011 - Winner Arts/Entertainment Exporter
* 2010 - Top 3 Arts/Entertainment Exporter
* 2009 - Top 3 Arts/ Entertainment Exporter
* 2007 - Winner (Australian Technology Showcase)
* 2005 - Regional Winner
* 2004 - Top 3 Arts/Entertainment Exporter



About Battlefield Sports
Battlefield Sports is the world leader in the development and production of infrared phasers for combat entertainment. Battlefield Sports™ makes patent‐pending SATRŪ phasers and writes unique battle missions. With millions of games played in more than 35 countries, it is headquartered in Australia and has agencies in the UK, Spain, and in the USA. It has won numerous awards for excellence, including being named one of the Top 3 Art/Entertainment Exporters in Qld (2004, 2009 and 2010). With more than a decade of experience, the group is the pacesetter in the development combat entertainment systems. Laser-Tag-in-a-Box hires gaming equipment to birthday parties, vacation care programs and summer camps. Visit www.battlefieldsports.com

About Trade Qld Export Awards
Trade Queensland (http://www.export.qld.gov.au) is proud to manage the Premier of Queensland's Export Awards. Recognizing and publicly acknowledging the success, innovation and sheer hard work of Queensland's exporters is important.
Trade Queensland is the Queensland Government's lead agency for driving export growth in our State. Committed to building recognition of Queensland's export capabilities in key markets and broadening our export base to generate employment and economic development, Trade Queensland aims to help Queensland companies earn more export dollars through an individualized and targeted service.


ENDS