Brisbane, Qld., September 22nd 2007: Coopers Plains company, Battlefield Sports, who run mobile backyard birthday parties with their patent pending inflatable bunkers and gaming guns has been named Champion Specialized Small Business at the inaugural Queensland Small Business Champion Awards.
Michael Choi, parliamentary secretary to the Minister for Transport, Trade, Employment and Industrial Relations and Multicultural Affairs presented Battlefield Sports the award at a gala dinner at the Sofitel Brisbane.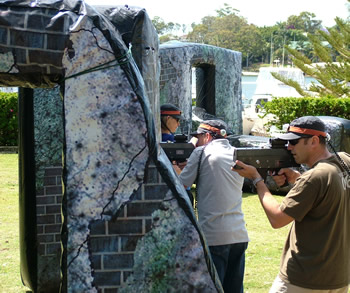 Collecting the award, Nicole Lander, Co-Founder of Battlefield Sports said: "Our tag line is Ready, Aim… Fun!"
"We are ready with our innovative inflatable barricades and bunkers to take the entertainment right to people's backyards, we aim to provide the best birthday ever for the kids of Brisbane, our goal is always to have fun!"
Inspired by popular programs, such as the soon to be released Halo 3, outdoor Battlefield LIVE is just like a live computer game.
Battlefield LIVE is a fun game ideal for all ages.
The gaming guns use a harmless infrared beam, similar to a TV remote that tags sensors worn by each of the players.
Covering 31 categories, from Automotive to Wedding Services, finalists were judged by an independent panel that considers all aspects of entrants' businesses, including their achievements, standing in the community, approach to staff and support of the local community.
Nicole Lander said the award is further testament to the success and popularity of their Battlefield LIVE innovations.
"We are delighted to receive this award and we hope that our success inspires other local businesses to go after new markets," she said.

Battlefield Sports, through their mobile service, delivers outstanding customer service combined with their attention to detail has developed a loyal following of customers.

State winners will contest the national final in Sydney in November where the overall winner will receive a $40,000 prize package including a trip for two to the UK to visit winners of the British Small Business Champions awards.

ENDS
About Battlefield Sports
Battlefield Sports™ is the world leader in live gaming combat simulation systems where gamers participate in combat simulation missions for entertainment. Interactive entertainment company Battlefield Sports™ manufactures and markets the gaming guns, patented live gaming inflatables, and unique battle missions for this leading edge hybrid of electronic sport. With representation in more than 35 countries and millions of games played Battlefield Sports has revolutionized the combined entertainment and exercise options for the video game generation. Headquartered in Australia and offices in Los Angeles, Battlefield Sports won numerous awards for excellence, including Exporter of the Year 2005 (FNQ) and the Member of the Year (2007) of the Australian Technology Showcase. Battlefield Sports sells about 85% of its products internationally. www.battlefieldsports.com

Download high res image, click here [888k]