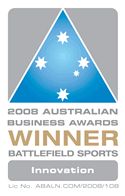 MELBOURNE AUSTRALIA, September 5th 2008: The most astonishing thing about the Australian Business Award winners is their diversity.
The champions for 2008 come in all sizes and from all sectors of the economy: from the public sector and the private sector; and from micro-business to huge multi-national export firms.
Australia's international export success story, Battlefield Sports, dominated the competition by winning both the Innovation and the International categories of these prestigious national Business Awards.
Battlefield Sports is the world leader of high-powered infrared gaming guns for corporate entertainment specializing in team building with a combat gaming theme.
Presenting the Australian Business Awards Program Director, Tara Johnston, said "The 2008 award winners were selected from a pool of over a thousand entries covering all aspects of commercial success, innovation and corporate responsibility. Battlefield Sports has displayed exceptional performance and leadership in its industry and is a role model for any organization striving for business and product excellence."
"Battlefield Sports helps set industry-wide benchmarks, exemplify creative ways, ideas, and best practices to improve their business and aspire to higher levels of performance in key disciplines," she said.
This year, judges screened more than 1,725 applications. In fact there were almost 200 entries in the innovation category alone.
"Our innovation is not just about being better, faster, stronger (though these are benefits of our new generation technology) we believe innovation is core to thriving in business," said Peter Lander, Founder of Battlefield Sports.
In selecting the winners, judges considered whether the technology truly represents a breakthrough from conventional methods, rather than just an incremental improvement. All entries were rigorously evaluated by an independent judging panel of business experts in accordance with the award criteria across seven main areas: leadership, impact, adaptability, corporate culture, customer and market focus, uniqueness and evidence of success.
The Australian Business Awards are an annual national awards program recognizing success, innovation and ethics across all industry sectors.
About Battlefield Sports
Battlefield Sports™ is the world leader in the development and production of high powdered infrared weaponry for combat games. Battlefield Sports™ manufactures, distributes and markets the equipment, patent pending live gaming inflatables, and unique battle missions for this leading edge hybrid of electronic sport and entertainment. With representation in more than 35 countries and millions of games played Battlefield Sports has revolutionized the combined entertainment and exercise options for the video game generation. Headquartered in Australia and offices in Los Angeles, Battlefield Sports won numerous awards for excellence, including Exporter of the Year 2005 (FNQ). Inducted to the Australian Technology Showcase, Battlefield Sports sells about 85% of its products internationally. www.battlefieldsports.com

© 2008 Battlefield Sports; Battlefield Sports and Battlefield Live are registered trademarks of Battlefield Sports.com. All rights reserved

ENDS