BRISBANE, AUSTRALIA, September 9th 2012: The award-winning Australian combat entertainment brand, Battlefield Sports®, introduces its Down Under Spring Sale.

To celebrate Spring here in Oz we are putting our iconic gaming gun model, the Spitfire Machine Pistol on sale.

"Battlefield Sports thrives on innovation," said Nicole Lander, Marketing C.O. for Battlefield Sports.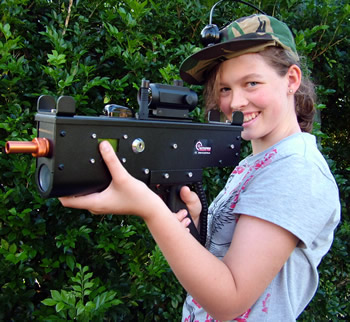 The Spitfire gaming gun is designed for exceptional performance and durability.

This model delivers lightweight, compact performance and now (for a limited time) is even more affordable price.

The Spitfire features an aluminum alloy body, a custom trigger for maximum control, and has a powder-coated finish.
The sale models are all Hammerburst black.

"The Spitfire gaming guns are all about performance and value for money," said Ms Lander.


On sale now.
Download the Sale Sheet, click here.


About Battlefield Sports
Battlefield Sports™ build systems so gamers can participate in combat missions for entertainment. Battlefield Sports™ manufactures gaming guns & gaming inflatables, and creates unique battle missions. Millions of games have been played across more than 35 countries. The Battlefield Sports® brand has service points in USA, UK Spain, Singapore, Poland, France, Chile, and is headquartered in Australia. Battlefield Sports has won numerous awards, including being named in the Top State Exporter in Arts/Entertainment, Premier of Queensland's Export Awards (2011) . With more than a decade of experience, Battlefield Sports is the pacesetter in the development of combat entertainment. This year, the company introduces its patent-pending SATR® System. Battlefield Sports is committed to 100% quality in service, design, and its manufacturing has CE certification. For more information, visit www.battlefieldsports.com


© 2010 Battlefield Sports; Battlefield Sports and Battlefield LIVE are registered trademarks of Battlefield Sports.com. All rights reserved

ENDS