A Spitfire is one of our more authentic models. Inspired by the Uzi machine pistol, it is compact, it is great for outdoor real live combat gaming. It is great for re-enactments. Many paintball field owners and theme park managers have chosen the Spitfire model because it is compact and robust.
This year's new model comes with a 40mm lens (the same as the Scorpion) for improved range.
It has a metal construction. More it has a full trigger mechanism. It also comes standard with a Red Dot scope.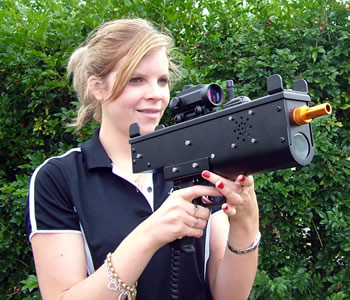 This Battlefield LIVE™ gun can really create a "wow!" effect with your customers.
Standard issue color: hammerburst black.