Building a milsim live gaming business is Peter's dream business. Battlefield LIVE is positioned to dominate the combat entertainment. It does milsim like no another. We have a range of gaming guns - P90, M4 carbine, Spitfire Uzi to suit your milsim theme.

BATTLEFIELD LIVE

Numbers of people who can play at the same time (cash flow potential)

300 people at once

Flexible location options (i.e. forest fields, Family Entertainment Centers, hotels & resorts, festivals, shopping malls)

Ten times the options

Do the Gamer Generation love it?

Player surveys show that 80+% prefer playing Battlefield Live over Xbox/PS2.

Participant pain when hit?

None.

Cost to play for participants

Low

Ammunition costs

Zero

How safe is it to play?

Very Safe

Where can you play?

Many location options

Legal Restrictions

Minimal, no age limit.

Shooting Range of Guns

Long

Environmental Impact
We are

green...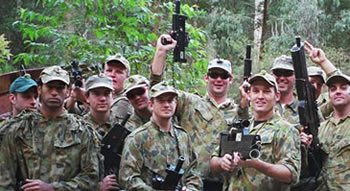 Do you have an unbeatable attitude? If so you could be just the kind of person we are looking for. Click here to take the next step...