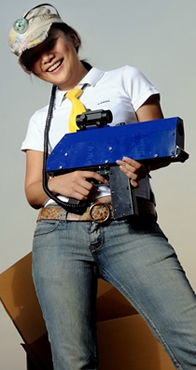 Experience is the new fun. The SATR is 100% mobile and straight-forward to operated because there is no central computer system. It is literally a turn-key system! This means a quick set up time!
We recommend two models to use when running a mobile laser tag operation - either the Scorpion or the Cobra.
Perfect for Mobile Laser Tag businesses we've created the new COBRA phaser. It is built tough & built for fun. We employed top industrial designers and chose precision engineers. With the Cobra you can select your team decals - Blue, Green or Red. We recommend adding optional colored headbands to match.

The system has four range settings, so you can power-down the infrared for indoors, or set on outdoor mode for a range of up to 330ft (100m).

The case is made from heavy duty MAKROLON 2858 polycarbonate resin which is on average 4mm thick
even thicker in critical areas. The design incorporates extensive use of silicone seals to make the Cobra highly water resistant

All electronic parts except the reload button is mounted on the right shell making disassembly, maintenance and reassembly extremely easy.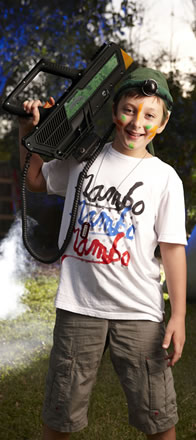 All surfaces are rounded making this unit highly suitable for both indoor and outdoor use. There's no protruding barrel, for maximum safety.

Blaze orange tip prominently placed at the front to ensure there is no danger of creating public alarm, Cobra can be used just about anywhere. The system includes the patented SATR electronics system, integrated head and barrel mounted infrared Optik sensors and Predator muzzle flash.

It also has an internally mounted antenna (inside the forward hand grip) for maximum robustness. It's also got a peep sight with its own red dot inside that never needs to be zeroed.

Or upgrade to an authentic red dot scope. The cobra weighs only 1.8kg (3.9lbs). There is great balance between the forward & rear hand grips making it easy for anyone to use

Request a free consultation... ...click here for the next step...