Frequently Asked Questions
This FAQ section is divided into sections, please take the time to find the answer to your question here, if something is not covered in this section, email us at support@BattleFieldSports.com and we'll be happy to help you.

SECTION 1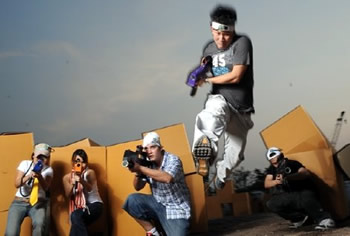 Q: Compared to Paintball or Airsoft, what is the market potential for Battlefield LIVE?
A: Paintball and Airsoft have a loyal following that is mainly Males between the age of 15-30. That's about 90% of their market. The key difference is that we are able to bring the entertainment right under the noses of the public. We can travel to where the players are, be it at a festival, a village fair, at a shopping mall, or at our customer's (such as a convention center's) venue.
You can expect players from all of the following categories: Tweens (U13), Teens, Corporate groups, Schools, fund raisers, Carnivals, Xtreme players (e.g. night-time combat missions) women's teams, and more. In fact anyone from 6-67 will be interested in playing. It's an enormous market and because of the flexibility of our business models you can decide exactly who you want to target and how. For more information on this and other relevant topics, refer to our book "Right on Target."
Q: What business models work, and what doesn't?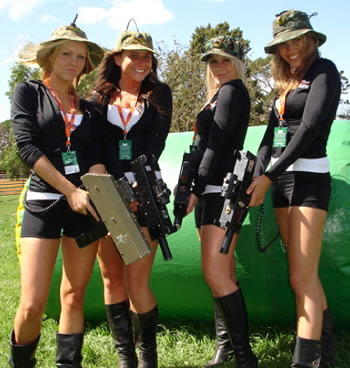 A: Since starting in 1999, Battlefield Sports has trialed many varied business models and marketing techniques. We've found the following work:
Games at events i.e. festivals, village fairs, etc

Battlefields at existing busy facilities such as convention centers, FECs, theme parks or adventure parks

Indoor arenas

Combining mobile battles at major events to drive business to fixed locations (these fixed locations could be either outdoor forest fields or indoor arenas).
In our experience, what does not work is a standalone arena or forest field without either busy passing trade or the promotional benefits of mobile events or a substantial advertising budget.
Q: OK, so I'm convinced that there is a big market for this, but how do I know it will work in MY local area market?
A: With over 250 venues using Battlefield Sports' kit in more than 35 countries and many years in operation we KNOW that there is a demand in your area but it's important that you VERY carefully assess the local demographics and consult with us to decide which of our business models you should pursue. Video games have driven the demand for a realistic combat simulation, we are the company of choice in the civilian combat simulation business. Believe us, IF you follow our plan you'll have plenty of demand for this activity in your area. However, success in business requires many factors to come together, mainly it's your background, values, business skills, purpose and persistence that will make this work for you. We are looking for UNBEATABLE partners to help push Peter's vision around the planet. You'll find a team at Battlefield Sports ready and willing to work with you and encourage you towards the gold medal every step of the way. We believe in freedom, friendships and loyalty and if you do your part you'll find us with you every step of the way.

Q: Why do teenagers like this game so much?
A: Think video games in real life and you'll have the answer.....TENS of thousands will now tell you that our game pulls them away from XBOX and other consoles...that's big.
.
Q: How many players do you expect to play Battlefield LIVE over the next decade?
A: That's a tough question because of the time period but we expect that the roughly 2,000,000 players we have now should grow to 20,000,000 in that time. All the indicators point that way, the demand for electronic sports is getting bigger by the day (the world champion video player earned around 3 million dollars last year.) and our market continues to grow and grow. It looks as though we are on the right trend, of course that is only half the battle, the main half is how hard we can work and how smart we can think to capitalize on that. Still, we love to work and we can't help ourselves from thinking and growing, the strategy that Battlefield Sports has deployed seems to be growing stronger by the day, in business as in life, strategy is everything.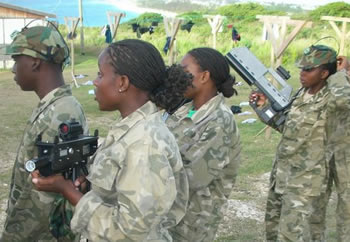 Q: I'm thinking about opening an indoor Laser Tag center, why is Battlefield LIVE a better business option for an indoor center?
A: We are a LIVE video game experience, that's our difference. It's a philosophy that continues to attract more and more players. You, as a business owner are simply giving your customers the experience of a thrilling new electronic sport that is closer to a real video game than anything else out there. That's really what it's about. Laser Tag manufacturing companies and companies similar just never "got" it. Why is it a better option for an indoor lasertag arena? First we have a games system designed for combat simulation that appeals to the new generation of gamers. Second we are able to redeploy the entire battlefield within a day.

Q: We are thinking about adding this to our Paintball location or even doing this instead of expanding our Paintball further, what's the good, the bad and the ugly here?
A: There is no ugly news....so the good news? Well, it's a DIFFERENT market that has only a little crossover value (eg extreme nighttime missions in the forest using infra red scopes/goggles). The bad side? As the business owner you need to be aware of possible age and attitude differences. But overall, if managed correctly you can broaden business income sources. This is, of course, a good thing.



Q: Is it true that Battlefield LIVE is taking market share from XBOX, Ps3, Wii and other entertainment games?
A: We complement these products. People love their computer games and then want to try a live experience with lots of other people in a big battle, that's where we (you) come in. There is no doubt we reduce the time people spend playing computer games because more of their leisure time is spent outdoors playing the "live" version.

Q: Is this a fad?
A: It does not appear to have the business genetics of a fad, what we have seen is strong but steady growth in our sales for the last decade. It appears there is a genuine interest in our breakthrough game.

Q: Is this a trend? How long will it last?
A: The mega trends towards gaming is clear and strong. How long it will keep growing is hard for anyone to predict.
Q: What are the most important business skills and psychological traits that a Battlefield LIVE operator should possess?
A: You need to be teachable, enjoy helping other people and be able to lead your company effectively. Where we can, we help you to develop some of these leadership skills by recommending books that have helped us and by attending our seminars, mainly though just stay in contact with us so we can drive the business forward together. As with any other business, mental attitude and tenacity is crucial, this is not an easy path to fast riches, it's a real business that requires a lot of passion, focus and teamwork, our most successful operators are people who really wanted a change of direction in life and wanted to be part of a growing business that also allowed them more time with their family, better health, regular exercise and hyper enthusiastic customers who see them as a hero for bringing this fabulous entertainment to their area..

Q: I don't think my marketing or sales skills are up to the mark, can I still go forward?
A: Yes, absolutely you can, a lot of this has been done for you because we have been experimenting with different business approaches for years, as long as you can find people and build a team then you can succeed because the demand for your Battlefield LIVE business will be explosive...

Q: This will be my first business venture on my own, what do I need to know?
A: With Battlefield Sports you are in business for yourself but not by yourself, plenty of support is available, ASK us about our packages and you'll see all the ways we will support you. Also, for more information on this and other relevant topics, refer to our book "Right on Target."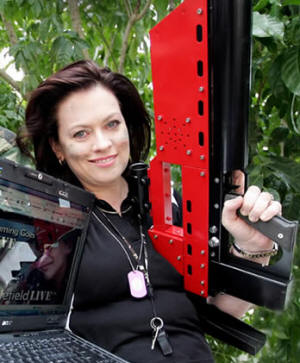 Q: I'm going to write a business plan, can you guys help me?
A: Yes we can help you. What we can provide the following key elements that are essential to a successful business plan:
the underlining business case

a successful and proven business model

marketing acumen

advice on operations

guidelines on staff recruitment and selection

information on source of supplies

financial analysis.
More, there is lots of info useful to writing a business plan in our book "Right on Target."

Q: Why won't this work for us? What can go wrong?
There are some factors that can really send this business into a spin. Wrong location - too far away from population. The primary thing that can go wrong is choosing the wrong business model. Bottom line, this is a business like any other business. You need capital, leadership skill, determination, marketing skills, location, love of the business and other parts of the "perfect storm" the business works all over the world. The question is not will it work for you? Rather, it's will you work for it?

SECTION 3.
Q: What is my set up cost going to be?
A: Depending on which business model you choose, you will need between $30,000 to $100,000 plus some working capital.

Q: How long will it take to see my initial cash investment come back to me and move into profit?
A: Think in terms of 18 months to 36 months as a benchmark. A lot depends on your business model and how you organize your marketing, a high traffic venue can have amazing ROI.

Q: I'm thinking about writing a business plan and going to the bank or government to fund me, what do you think?
A: Don't waste your time or ours approaching either of these groups. If you have an asset, borrow against it and use the funds for whatever you want, if you can't fund it through an asset use friends or family, savings or a combination of all. Please don't contact us with a whole bunch of questions BEFORE you have the funding 100% agreed or in actually in place. Everything you could want to know is on this site and we are very happy to talk with you if you are sincerely wanting to open a location with us. Banks and Governments just don't get it. Do they ever?
Q. Does Battlefield Sports sell gaming guns for private or personal use?
A: Yes. Battlefield Sports gaming guns and gaming inflatables are available for purchase by individuals or by companies. However we recommend that local laws are checked before ordering to ensure the model selected can be legally imported and possessed in your state or country. Contact your nearest office to order.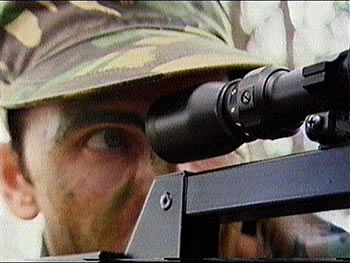 Q. What's Included with the Gaming Guns?
A: Every gaming guns comes with its own computer inside the gun so you can just turn it on with a key and start gaming. (The key is also included.) You also get integrated sensors. There are 3 sensors, one on the gaming gun barrel, and -- attached via twirly cable -- one for the center of the forehead & one for the center of the back of the head (so you can get 360 degree hits). Also included is an integrated red-dot or telescopic scope (depending on the model of gaming gun). Also included is a 7.2volt rechargeable battery (one per gaming gun). For orders of 10 or more gaming guns, we also include CIF air freight. CIF to your choice of international air port. This means that we will pay for the shipping from Australia to the your port and will also pay the insurance on the shipment and all export related costs in Australia. You are responsible for: landing chargers at your port unload onto trucks from your port transport from your port to your chosen destination any custom's clearance fees; and entry duties and taxes, including sales tax, if any.
Q. How do I go about getting a software upgrade?

Battlefield Sports offers a free upgrade of software to version 1.2e of the S*A*T*R system. In this case the customer simply pays for the shipping of the boards to/from our factory or authorized agent. Operators may choose to upgrade to the latest production code after 1.2e, however the following fees will apply:
Customer has purchased their gaming guns within the last 90 days, the fee is USD$25 per unit

All other customers pay USD$50 per unit.
In all cases the customer is responsible for the shipping costs to/from factory or authorized agent.



Q. Can I upgrade old gaming guns to SATR?
Yes it is possible to have old classic system gaming guns converted to SATR technology. This is, however, a major overhaul requiring the replacement of the main board, LED/LCD, head sensors including cable and much of the wiring. In addition an antenna and on some models a side bracket must also be supplied and installed. The upgrade process is challenging especially on very old gaming guns, so the upgrade process is best done by a Battlefield Sports certified repairer. Generally (excluding shipping) an upgrade will cost on average around $500 per unit depending on the model and the age of the classic gaming gun.

Q: How do the start up costs compare to Franchise operations?
A: We are very competitive compared to most business opportunities in the market, this is a lifestyle business and arguably, one of the most exciting and motivational business ideas in the world. You have a lot of choices but what would you rather do, be a hero to your customers, running a healthy business that enjoys steady and continuous growth year after year or buy a Dunkin Donuts, Tax franchise, Burger place...etc. We'll see YOU on the Battlefield, thank you..!


SECTION 4.

Q: Other manufacturers are offering individual scoring i.e. a rank from first to last. Why does Battlefield Sports not do this?
A: We believe it is not a good idea. Let us explain, we have spent a decade plus running our own successful commercial battlefields and we discovered that individual scoring was very bad for repeat business.

While S*A*T*R provides real time statistics on the shooter's gaming gun including hits made, kills, accuracy percentage and number of times re-spawned, we are wholly against individual scoring.

Here are four of the numerous markets that drive your business, let's take a look at them...
Boy's birthday parties

Sports Team's Break ups

Corporate fun and team building.

Advanced missions for regular players.
Lets look at each of these customers in turn.
A. BOY'S BIRTHDAY PARTY
This is such an important group, there is a boy (or girl) having a birthday every day of the year. So this means year round business. The Birthday boy is very excited and wants to be a hero on his birthday. Our job as entertainers is to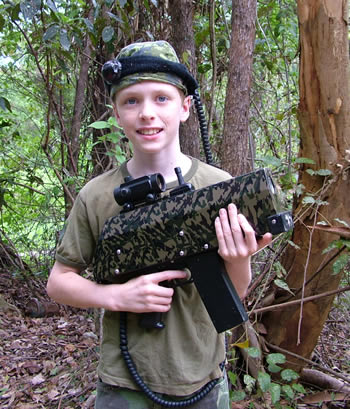 make sure this happens. When the boy plays he and his friends imagine how great they have done even though they have probably missed (shooting) everything. They are only kids and they only play once or twice per year. Boys naturally fantasize about how well they have done and will tell fantastic stories when they come off the field. We as staff need to give them lots of positive feedback. The last thing you want is an individual score telling the birthday boy how bad he is. This is an important message to the parents who are very worried that their young boy Johnny will be embarrassed on his birthday. The kids who play Battlefield LIVE ALWAYS go home excited and positive. All of them. Individual scoring cannot guarantee this. If you want to run a successful business make sure you buy a system that doesn't have individual scoring. It just doesn't work. How are we so certain? Answer: Hundreds of thousands of players know what they want.
B. SPORTS TEAMS
Sports team are all about team and team objectives. They have no interest in individual scores. The come to Battlefield LIVE for a team bonding experience.

C. CORPORATE FUNCTIONS
Corporate groups are again team focused. It's not about making individual heroes in a corporate culture, it is about working together with everyone contributing to achieving the group objective.

D. ADVANCED PLAYERS
Having run more advanced missions in a commercial environment, than anyone else on the planet, we at Battlefield Sports can tell you with 100% certainty that individual scoring just doesn't work for these guys and gals. Advanced missions are multi-phase and each player has a role and that role does not mean shooting all the time. Personally in large games when I play and spend my time organizing my troops and gathering intelligence reports, this role often is the decisive difference between the teams, but an individual score for me would be a flat zero. So the individual scoring encourages everyone to play for themselves and always want the shooting parts, rather than other important jobs like recon, guard duties, leadership etc. In many advanced special forces missions, the goal is the avoid contact with the enemy. In games like this it is a failure if a fire fight starts.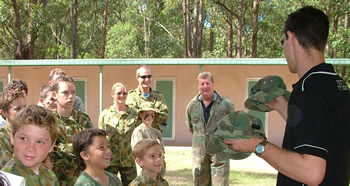 Q: How long will the guns last?
A: Being aluminum and stainless steel, they don't rust. The gun case therefore has no finite life span. We have seen gun cases in use for 5 years. You should be factoring in your cash flow projections to do a major upgrade every 3 years. A major upgrade typically costs 25% of the original purchase price.
Q: How do you actually use the gaming guns, how do they work?
A: Check out our S*A*T*R Quick Start Guide, click here. Or for our Classic system see its Quick Start Guide. Also if you visit our Battlefield LIVE gamers web site (www.BattlefieldLIVE.com.au) we have a "tour of duty" on the home page which steps you through our brand of combat entertainment. And if you click on INTEL we have a quick mini-movie called "What is Battlefield LIVE?" which is a good overview of live gaming.

Q: Why does Battlefield Sports make metal gaming guns? Why is it good to have heavier gaming guns. Your competitors all say that light is best?
A: Main reason, is the WOW! factor. You can't expect people to play if all you do is provide a plastic gun they could have purchased at Wal-Mart such as the LTTO gear. Metal feels real, not like a plastic toy. In this fantasy creation business, the props used are vital to suspend disbelief, our gaming guns do just that. Again, we have hundreds of thousands of players all over the world it's something that ALL of the other manufacturers put together don't have. They just don't have the experience we do. Kids love a heavier and more realistic gun not something that feels "gay" (that's teen talk for not cool) their language, not ours... The next reason is metal is durable and maintainable. We can panel beat metal plates back into place, not possible with resin or plastic, it will simply crack. We do, of course, have small combat gun models that are great for younger players.

Q: What's the usual delivery time for the gaming guns?
A: Gaming guns are usually shipped 8 weeks from cleared funds deposit.
Q: What's the usual delivery time for the battlefield inflatables?
A: 12 weeks (as they are shipped by sea).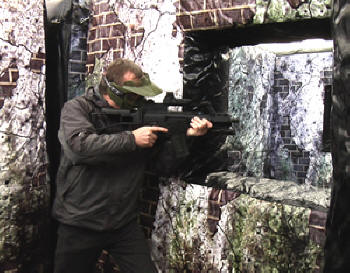 Q: Do you guys offer tech support?
A: The most important part of support of course is to make the gaming guns robust, water resistant and easy to use people need very little support. Of course we do provide ongoing tech support. Email response is never more than 24 hours.

Q: Are the gaming guns water resistant?
Battlefield Sports gaming guns are designed to operate in light rain and showers, but if used in heavy rain, storms or immersed in water, the electronics can be affected. If a unit is rain affected turn off the unit as soon as possible. If the water is inside the case, open the case up in dry conditions to let the internals dry out before attempting to turn it back on. The sensor domes are designed to allow some moisture in and out, this can result in a light red glow from the hit light, however the sensor will continue to work normally in this circumstance.

Q: What sort of warranty do you offer?
A: The gaming gun cases are warranted by Battlefield Sports to be free from defects in material and workmanship under normal use and reasonable care (in the opinion of the BFS) for a period of 24 months from the date of original purchase covering both parts and labor.

In the case of gaming guns sold as used, the 24 month case warranty commences from the month of first manufacture as indicated on the unit's serial number. All freight and insurance charges are the responsibility of the client. Battlefield Sports shall not accept any responsibility caused by inadequate or unsuitable packaging.

This warranty does not cover any product which has been subject to misuse, abuse, neglect, accidental damage, excess heat or moisture, improper voltage or current when charging or alteration that affects the reliability or performance of the unit not attributable to faulty manufacture. Inflatable barricades have a warranty against manufacturer defects for 90 days on a return to factory, basis

.

The scope and electronic parts are warranted for 6 months by Battlefield Sports. Infra-red transmitters, sensor cables, external antenna, switches and buttons used in the goods are explicitly excluded from the warranty as they are considered consumables.

Version 1.4 of SATR is backwardly compatible with older versions of SATR with the following limitations:

In fact, we have an owners only, online Battlefield Sports University where we provide lots of useful collateral. Everything from coupon design to radio advertising scripts.

Q: Why is this a great lifestyle business?
A: Giving so many people such a good time face to face is a tremendous kick. This is a lot of fun to run. Its also a very healthy choice, you are in the outdoors, often in the woods and getting fit at the same time, surrounded by people who are having a blast and exercising at the same time what could be better?

Q: I know you guys don't think you have any competitors but if I want to buy equipment elsewhere who would you recommend?
A: Look, we invented this outdoor game and continue to expand it as a worldwide phenomenon, in the course of this we attracted distributors to us who decided they could "improve" on our technology. In our opinion ALL the other companies selling this kind of infra-red equipment are of questionable ethics, why do we say this? Well, we have seen so many go bust and we know from personal experience how much work goes into making this business work well. If you don't want to buy a business, which is what we sell, and if you JUST want gaming guns we have only one recommendation, Laser Sports in the UK, they have reliable equipment for many years now. Other companies? Ask LOTS of questions including REAL references for fields making money, ask how long their equipment has been in use and INVESTIGATE the backgrounds of the owners of these companies before you part with your cash. Don't believe their hype....get at least six references and ask them exactly what they are going to provide you in terms of business support.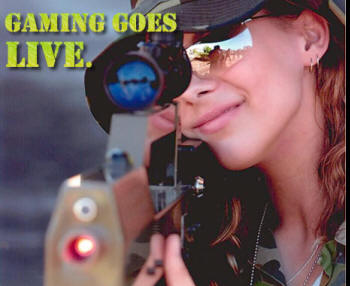 Q: Who are the people behind Battlefield Sports, where has the vision to create this company come from?
A: The creator of the concept and visionary gamer behind Battlefield Sports is Peter Lander who has been developing this concept for over 20 years. Starting with nothing but a bright burning and clear vision of what he wanted to accomplish Peter has developed and launched a worldwide phenomenon that continues to grow. Peter was born in Adelaide and was raised in Far Northern Queensland, as a youth his big three passions in life were Business, Table Tennis and gaming, he was a fanatic for all three in his early 20s. After finishing his computer science degree he dedicated all his free time to creating the ultimate combat game. It took many years and travel down a bunch of blind alleys but eventually he was able to gather a team around him who caught his vision. The rest is history....in the making. For more info about us, click here.