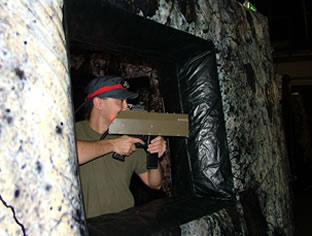 A sophisticated, new age concept, an indoor Battlefield LIVE™ is a milsim experience like no other. With 10 on 10 gamers, imagine, offering gamers fully licensed bars, DJ music, disco lighting, pool tables and sports telecasts. Battlefield LIVE™ is not only unique but also downright cool!
Take the game indoors for the perfect location for a corporate function, product launch, team building event, cocktail party, barmitzvah, birthday party or just a great night out.
The old style indoor systems with one model "dumbed down" to the lowest common denominator are no longer good enough for the new breed of sophisticated gamers. Gamers expect a range of models with characteristics that are "realistic" for each. Gaming has become very focused on team games and mission objectives; this is a key departure of the old individual scoring.
Our gear is great for indoor milsim.